How do we create value?
Partners Group's active management approach is supported by the combination of global reach, local presence and deep industry expertise.
Partners Group's investment team tracks and monitors over 7000 private companies around the world. The breadth and depth of this intelligence enables us to assess the relative value of different sectors and industries over economic cycles and in turn identify those businesses that offer attractive return potential from a top down perspective.
Every year, across the private equity, private real estate, private infrastructure and private debt markets, we screen thousands of investment opportunities that have been identified by our global network of entrepreneurs, industry experts and private market managers. However, we invest in just a small fraction of these opportunities, selecting only those that we believe offer the best value creation potential.
Investment approach
Our investment approach encompasses private equity, private real estate, private debt and private infrastructure investments and focuses on investing in quality assets with growth and development potential.
To benchmark our global investment opportunity set, we identify those areas of private markets with the greatest investment potential in the prevailing market environment and define the sectors, regions and strategies likely to offer higher value relative to other segments.
This top-down view on the most attractive investment opportunities in private markets globally, combined with our bottom-up ability to identify and develop the most promising investments within local markets, has resulted in strong outperformance over two decades1.
We follow a globally integrated investment approach across all private markets asset classes. This enables us to construct flexible portfolios that can adapt their investment strategy in case of changing market conditions. Our investment approach includes three investment strategies: direct, secondary and integrated investments.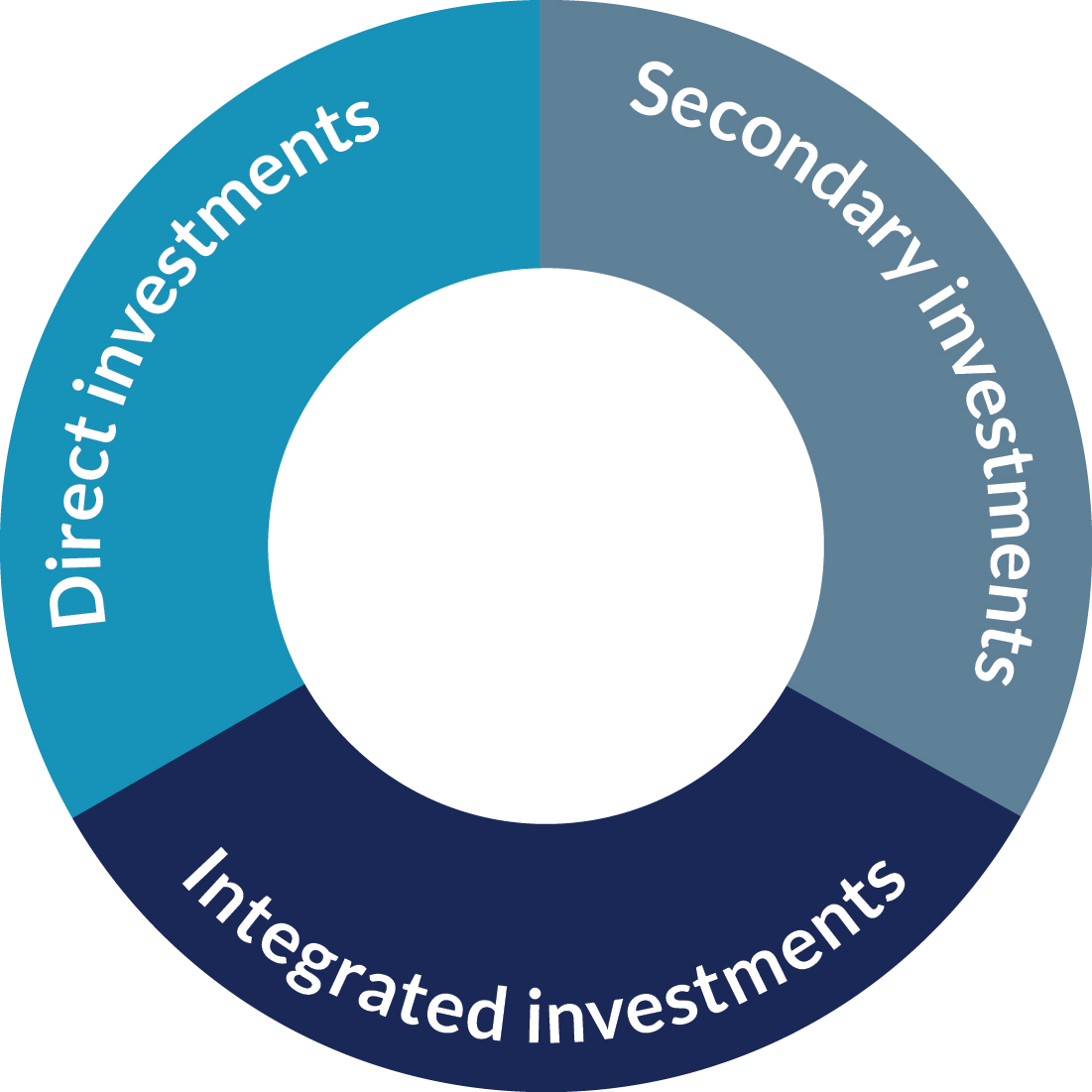 We invest directly in the equity or debt of attractive companies, real estate assets and infrastructure assets, with high development potential. Value creation is our priority and we work closely with management teams and corporate partners throughout the life of our investments. Our investment professionals are supported by our in-house team of dedicated industry experts, who capitalize on their deep sector knowledge to seek out value creation opportunities.
Secondary investments (secondaries) are interests in existing private market funds that have been acquired on the secondary market, typically after the end of the relevant fund's capital raising period. We look to acquire funds with assets that have significant growth potential. Our long history as a secondaries investor gives us a comprehensive understanding of this complex and often competitive market globally. We are able to seek out proprietary acquisitions and offer innovative solutions, speed and responsiveness to our counterparties.
We complement our direct and secondary investments with commitments to select managers in the private markets industry. Integrated investments are investments in newly established private market funds. Through a flexible combination of these three investment strategies, we can benefit from economic cycles and build more diversified, global private markets portfolios. We have done this since our foundation and have consistently generated outperformance for our clients across economic cycles.
More
Less
Relative value investing
Changing market conditions, as well as transformative and regional trends, can significantly affect the attractiveness of different sectors and industries. We therefore conduct regular analysis to identify and further define those sectors, regions and industry strategies likely to offer higher value relative to other segments at that time.
While the relative value approach offers the potential to identify the most attractive returns from a top-down perspective, it requires a comprehensive array of skills and can only successfully be implemented from the bottom-up by a large, globally integrated team with a broad industry network, strong deal flow and experience over many economic cycles.
Since inception, our large global team has established an extensive network of entrepreneurs, industry experts and private markets managers across the globe that gives us access to a multitude of investment opportunities.
In 2015, our investment professionals screened 5477 investment opportunities. Our rigorous investment selection process meant that we only invested in 150 of these opportunities. This enables our investors to benefit from the attractive investments with value creation potential.
More
Less
Value creation
Our key objective is to realize the full development potential of the companies, real estate and infrastructure assets we invest in on behalf of our clients. Active value creation is a core element of this aim.
Within the private markets industry, we operate one of the largest Industry Value Creation (IVC) teams globally. The team devises and implements operational value creation initiatives throughout the lifetime of an investment, aiming to create lasting positive impact.
Operational value creation initiatives vary, but typically focus on achieving certain strategic objectives such as expansion through an organic or acquisition-based growth strategy, improving operational effectiveness through a number of focused operational projects or through capital management. All strategic initiatives are guided by our high corporate responsibility standards.
Our team of industry experts is fully integrated into the investment process and specialize in the following sectors: healthcare, consumer, media & telecom, IT, industrials, financial services, infrastructure, and real estate.
More
Less
Back to top